La Chana
Fri Oct 13 1:00 PM
Museum of Contemporary Art
General Admission
83 Mins
Lucija Stojevic | Iceland, Spain, USA | 2016 | Unclassified 15+
Antonia Santiago Amador, the Catalan dancer better known as La Chana, was one of the greatest stars of the flamenco world, captivating audiences worldwide with her innovative style in the 1960s and '70s. Then she disappeared from the public eye for two decades. Director Lucija Stojevic gives us a deeply personal portrait of La Chana as she returns to the stage for a final performance, and unflinchingly examines the role of women in Spanish Gitano ('Gypsy') culture. Winner of the audience award at the International Documentary Film Festival Amsterdam (IDFA), La Chana is a moving film about the gulf between the artist onstage and the life of the woman behind the scenes.
Screens with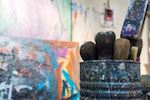 Pat's Studio | Ashleigh McArthur | 2017 | 5 mins
The story of an artist, her work and the end of a love affair with the city that inspired it, Pat's Studio showcases a unique figure on the Australian art scene and a bygone era in Sydney's Inner West.
Purchasing Tickets
Please select a time below to view ticket pricing.